Over the past several days, many staffers who work at the White House have begun to wear a mask consistently – a departure from how it had been before the president was infected.
Kayleigh McEnany was not one of them.
She spoke with me and others on Friday outside of the West Wing, and she chose not to wear a mask in that moment.
She was following the example of Larry Kudlow, the director of Trump's National Economic Council, who had spoken with us earlier in the day, also without a mask.
In this way, they were conveying the president's upbeat assessment of the virus and how it was nearly under control. Both McEnany and Kudlow stood two metres from us, following guidelines on social distancing.
Yet it was striking to see them go about their daily lives in a way that seemed largely unaffected by the virus.
The fact that she has tested positive is a reminder of just how dangerous – and contagious – the virus is.
It is also a reminder that conveying the president's message through words and actions – whether about the virus or other matters – is a risky undertaking.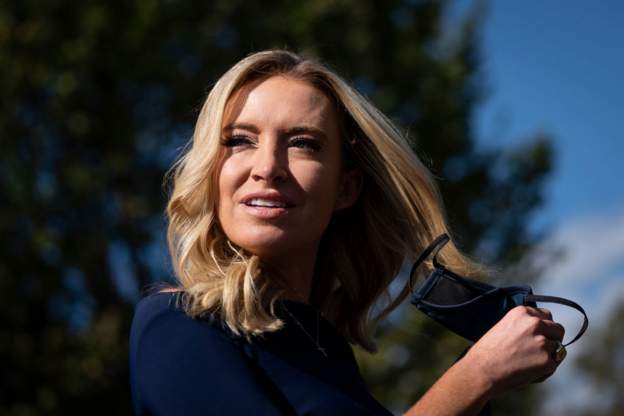 Trump's inner circle: Who has tested positive so far?
At least 12 people close to President Trump at the heart of power in the US have tested positive for Covid-19.
Many of the people who have tested positive around Trump attended a meeting at the White House on 26 September that is being scrutinised as a possible "super-spreader event".
As we reported earlier, White House Press Secretary Kayleigh McEnany became the latest to test positive for the virus on Monday.
Here's an overview of who else has been diagnosed:
First Lady Melania Trump
Senior presidential aide Hope Hicks
White House aide Nicholas Luna
Former White House counsellor Kellyanne Conway
Republican Senators Mike Lee, Thom Tillis and Ron Johnson
Trump campaign manager Bill Stepien
New Jersey governor Chris Christie
Republican National Committee Chairwoman Ronna McDaniel
President of the University of Notre Dame John Jenkins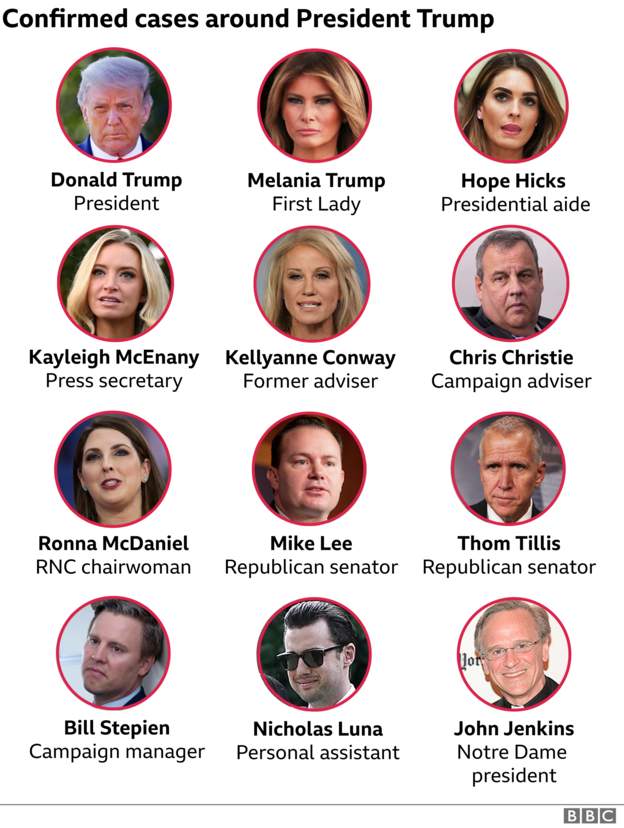 White House reporters react: 'She endangered lives'
White House journalists are reacting with outrage to hear that Trump's press secretary – who has been regularly removing her mask to speak to journalists at the White House even after her boss's positive diagnosis – has just tested positive.
"Kayleigh McEnany has repeatedly spoken to reporters without a mask on. She has recklessly endangered lives," tweeted New York Magazine correspondent Olivia Nuzzi.
Many reporters are pointing out that just yesterday McEnany held an outdoor briefing for reporters at the White House, where she again did not wear a mask.
The White House Correspondents Association (WHCA) sent out a statement amidst the breaking news.
"We wish Kayleigh, the president and everyone else struggling with the virus a swift recovery," the organisation said, adding that no additional journalists at the White House are known to have been infected but several are still awaiting test results after three colleagues tested positive over the weekend.
They added that journalists should wear masks and socially distance – "especially when at the White House" – and to get tested if they think they may have been exposed to the virus.