A bit of good news in the fight against COVID-19 in South Africa.
It's been revealed those infected with the newest variant of the virus are not only
protected against this variant in future but also against earlier ones.
The announcement was made by Higher Education Minister Blade Nzimande earlier on Wednesday.
Scientists say people infected with the 501Y.V2 variant generate immune responses that offers them protection against other coronavirus variants.
They are joined by Minister of Higher Education, Science and Innovation Blade Nzimande
and Health Minister Zweli Mkhize in giving an update on Wednesday on local research
conducted on the second variant of the coronavirus.
501Y.V2 variant are immune
A genomics team, led by the Kwazulu-Natal Research Innovation and Sequencing Platform
(KRISP), detected the 501Y.V2 variant last year.
Scientists found the variant is more transmissible but does not cause more severe forms of COVID-19.
Government has since made R25 million available to KRISP to undertake more research on the variant's characteristics.
Nzimande said: "Those who were infected in the second wave, which was dominated by
what we've have now been referring to as the new variant 501Y.V2, have protection from
past and current circulating variants."
Presently the Minister of Higher Education, Science & Innovation, Dr Blade Nzimande & Minister of Health, Dr Zwelini Mkhize are hosting a virtual media briefing to discuss the latest scientific results relating to the COVID-19 variant.

— NICD (@nicd_sa) March 3, 2021
Prof Koleka Mlisana talking to the the key principals the Network for Genomic Surveillance in South Africa is guided by. #FightCOVID19 pic.twitter.com/fZm69Kcy76

— NICD (@nicd_sa) March 3, 2021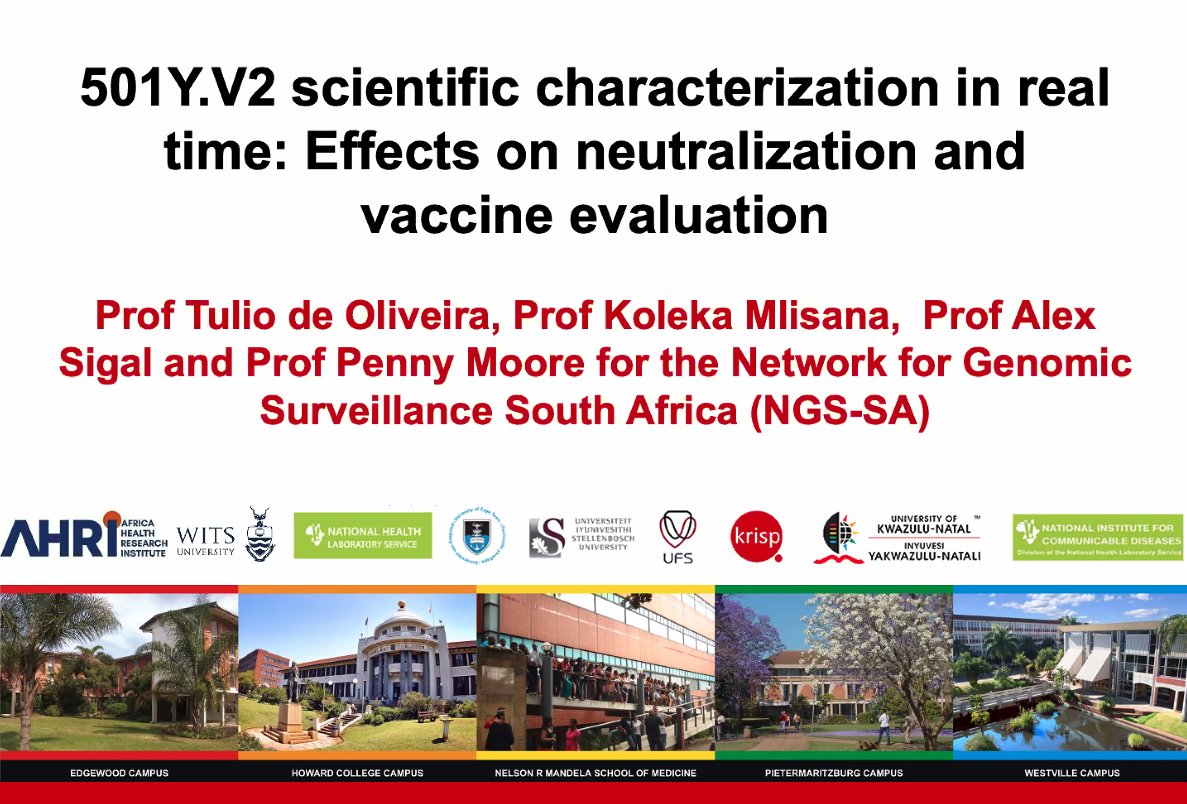 WATCH LIVE: Nzimande, Mkhize give update on scientific results on COVID variant
501Y.V2 variant are immune
These findings have significant implications for vaccine design & suggest that vaccines,
that are modified to contain the 501Y.V2 spike, are likely to provide protection against multiple variants.
Vaccine developers are already making & testing such second-generation antibodies
501Y.V2 variant are immune
Biovac CEO Morena Makhoana on Wednesday said the institute had the capacity to manufacture COVID-19 vaccines but it was limited to around 20 million per year.
For South Africa to manufacture a COVID-19 vaccine here on home soil, it would need to be processed on a much larger scale and Biovac said it was not able to meet such demand.
However, Makhoana said they were not going to sit back and ignore this opportunity.
"We don't build facilities during a pandemic, we build facilities between a pandemic, sort of the preparations that they are doing but that will take a few years. That is how we will be able to prepare for the next pandemic and not rely on external companies for vaccines."